3 Common Mistakes That Can Reduce Your Claim Payment
Public Adjuster North Carolina
Don't Let One Disaster Be Followed By Another
You're overwhelmed. There's so much to do after a fire, flood, water, tornado, storm damage, flood damage or other disaster has caused property damage to your home or business. With all your other responsibilities, how can you make sure you get everything you're entitled to from your insurance company?
AmeriClaims is a public adjuster in Charlotte, NC that will represent your interests. Our clients routinely get much bigger cash settlements than what their insurance companies originally offer – from 40% more up to 700% more. Money you'll use to rebuild and come back stronger or cash out and walk away.
Public Adjuster Services In North Carolina
Headquartered in Charlotte, NC, we serve clients throughout Florida and South Carolina as well.
When you work with an AmeriClaims adjuster, you will automatically have a teammate working on your claim. Your claim becomes just as important to us as it is to you. That is why our adjusters always keep open lines of communication to provide homeowners and business owners with assistance through what can be an unfamiliar process.
At AmeriClaims, we give you the advantage of having an expert you can trust working on your claim. Insurance companies are always going to try to find ways to pay you as little as possible. That's why it is so important to have the aid of the top public adjuster North Carolina has to offer.
By Your Side From The Very Beginning
Natural disasters and unforeseen acts of nature are unavoidable. But that doesn't mean you can't pick up the pieces and put your life back together again. In the aftermath of any kind of damage to your property, you need someone to turn to in order to make things right.
Preparing an insurance claim is not something every person knows how to do. There are small details that could make a huge difference in how your claim pays out. AmeriClaims will be there from start to finish. Your insurance company has many experts working for them and now it's time to have someone working for you. You should have an advocate working for you. Call us today at (866) 312-0774 for a free claim consultation and experience the best public adjuster Charlotte, NC has available.
Contact AmeriClaims Today To See How We Can Help Protect You From Getting Less Than You Deserve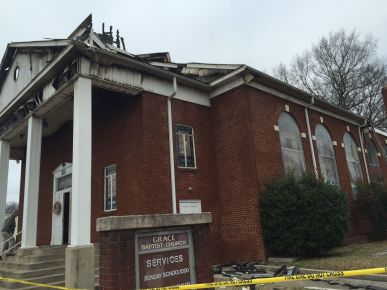 Grace Missionary Baptist Church in Kannapolis, NC had a devastating fire loss in January of 2017. The fire began behind the sanctuary in a baptism pool, and quickly engulfed the entire church. Grace Baptist was a cornerstone in this tight knit community, and the loss of this church was devastating to the church, its members, and the community.
The board members of the church held a meeting to decide how to move forward with the claim and rebuilding. One of the members of the church recommended they speak to AmeriClaims public adjusters, as they had used our company in the past. We immediately came to the scene, met with the board and quickly assembled our team of experts to move forward for Grace Baptist Church.
We first arranged for temporary repairs including pumping water out of the basement, boarding up windows and setting up a security perimeter fence. We then brought out engineers, general contractors, and even a specialty stain glass window company to assess the damage to the stained glass windows in the sanctuary. Our inventory specialists inventoried and captured the details of all contents in the church including pews, bibles, desks, computers, organs and any other contents that could be claimed.
When all was settled, AmeriClaims was able to recover more then the full policy limits on the building and the contents for Grace Baptist. We recovered more than the policy limits by claiming additional coverages that were in the fine print in their insurance policy.
This allowed Grace to be able to completely rebuild the church and have a more modern building for their congregation. Pastor LJ Mills was very thankful they hired AmeriClaims to handle their claim and said he would not hesitate to use AmeriClaims again, should they ever experience another property damage claim.