Blog
In the aftermath of a fire, there is usually a myriad of emotions experienced by homeowners. While that is perfectly natural, there is still a need to meet your duties as a homeowner. After your home has sustained a fire, here is a list of duties you should be sure to cover.
Mitigate damage
After a fire, it is the homeowner's responsibility to make sure the home is safe from any further damage. In instances where a home is a total loss, this step is not required. But if there is a hole in the roof, be sure to cover it with a tarp to prevent potential weather damage. Board up the necessary areas and make sure any embers are smothered. And be sure to take any valuable items out of harm's way, such as a TV that is near an open area. Also, do not turn on any utilities without the consent of the fire department.
Compile a list
It is important to put together a list of all the items that were damaged or lost. Go around your home and be very thorough with your list as it is an important part of your insurance claim. And even if those items are completely destroyed, do not throw them in the trash. This could give the adjuster reason to refute your claim. Make sure all that evidence stays put.
Don't wait to file a claim
Acting fast is key after fire loss. After calling your insurance company, a representative will ask that you submit a claim that is called proof of loss. This is where your list will come in handy. The reason it is important to act quickly is because it could extend the response time that an adjuster comes out to survey the damage.
Track your expenses
Most policies have a loss of use clause. This is a way of getting reimbursed for your living expenses while you are away from your home. This is not an excuse to start spending wildly as insurance companies are not going to pay out more than what you were spending per month in your home. But it's a good idea to start tracking expenses right away.
Hire a professional adjuster
Insurance companies are going to have adjusters attempting to pay you as little as possible. The way to fight back is to hire a public adjuster that will work for you. This is almost like hiring a lawyer when you are a victim of a crime. It's important to have a professional on your side.
Contact AmeriClaims to speak to a public adjuster about your claim. Our team is ready to our experience to work for you and ensure the best payout from your insurance.
After your home sustains damage from a fire or natural disaster, the insurance claims process begins. Insurance companies frequently attempt to settle early on, although that is not always best for homeowners. Here are some red flags for homeowners to watch out for when an insurance company makes its first offer.
You did not file soon enough
An adjuster may attempt to use the excuse that you waited too long to file a claim, which has hurt your settlement amount. Most times, this is simply not the case. It is a tactic that insurance companies will use to pay out much less than they rightfully should.
Asking for signature or recording
When insurance companies want to record a conversation or ask for your signatures in multiple places, take pause. Do not agree to sign anything or record anything without first consulting a public adjuster. Insurance companies are looking to manipulate quick settlements in their favor.
Low offer amount
It is common for insurance companies to offer you a low amount the first time around. When that occurs, you have the right to ask them to justify that amount by listing the damages and support that amount with ample reasoning. If you feel the number is too low, you can simply refuse the offer.
Fast initial offer
If an insurance company contacts you with a fast initial offer, it is wise to look at it very skeptically. Insurance companies have a tendency to draw things out and when they do propose a quick offer, it is likely to get themselves out of paying a lot more than they rightfully should. The reality is that most claims take months upon months to get settled.
Using unfamiliar language
In some instances, insurance companies will attempt to cite intricate details of your policy to justify their claim. This is a tactic meant to confuse and strike fear into homeowners. If the initial offer comes with a whole lot of jargon you do not understand, deferred to a public adjuster for assistance before accepting anything.
Aggressive allegations
An insurance company may try to get homeowners to feel as though they shoulder some of the blame. If the rep from your insurance company is acting aggressively or making any allegations to where you may be at fault, then it is a good idea to discontinue that conversation. It is a tactic aimed at getting you to settle right away.
The first thing you should do when disaster strikes is contact a public adjuster. A public adjuster will be able to steer you in the right direction and make the most out of an otherwise unfavorable situation. Public adjusters understand every part of your insurance coverage and can help you get what you rightfully deserve. However, there are some things you can do to help expedite the process.
Notify Your Insurance Company
In order for the claims process to begin, you need to promptly notify your insurance company that your property has sustained damage. All insurance companies have 24-hour phone service so that you can call them anytime to report the damage.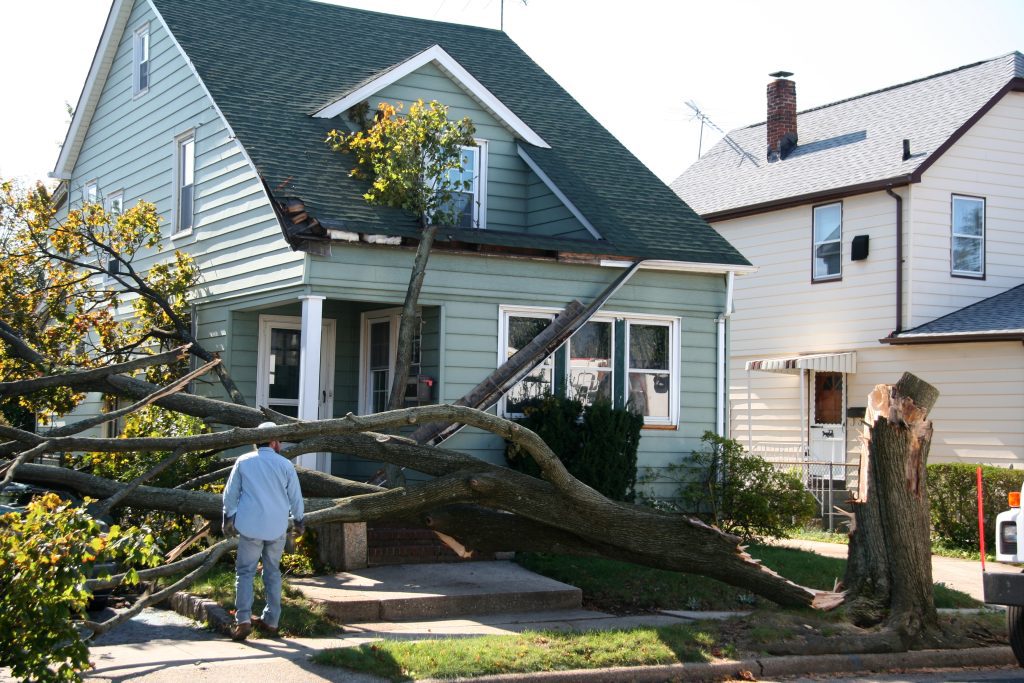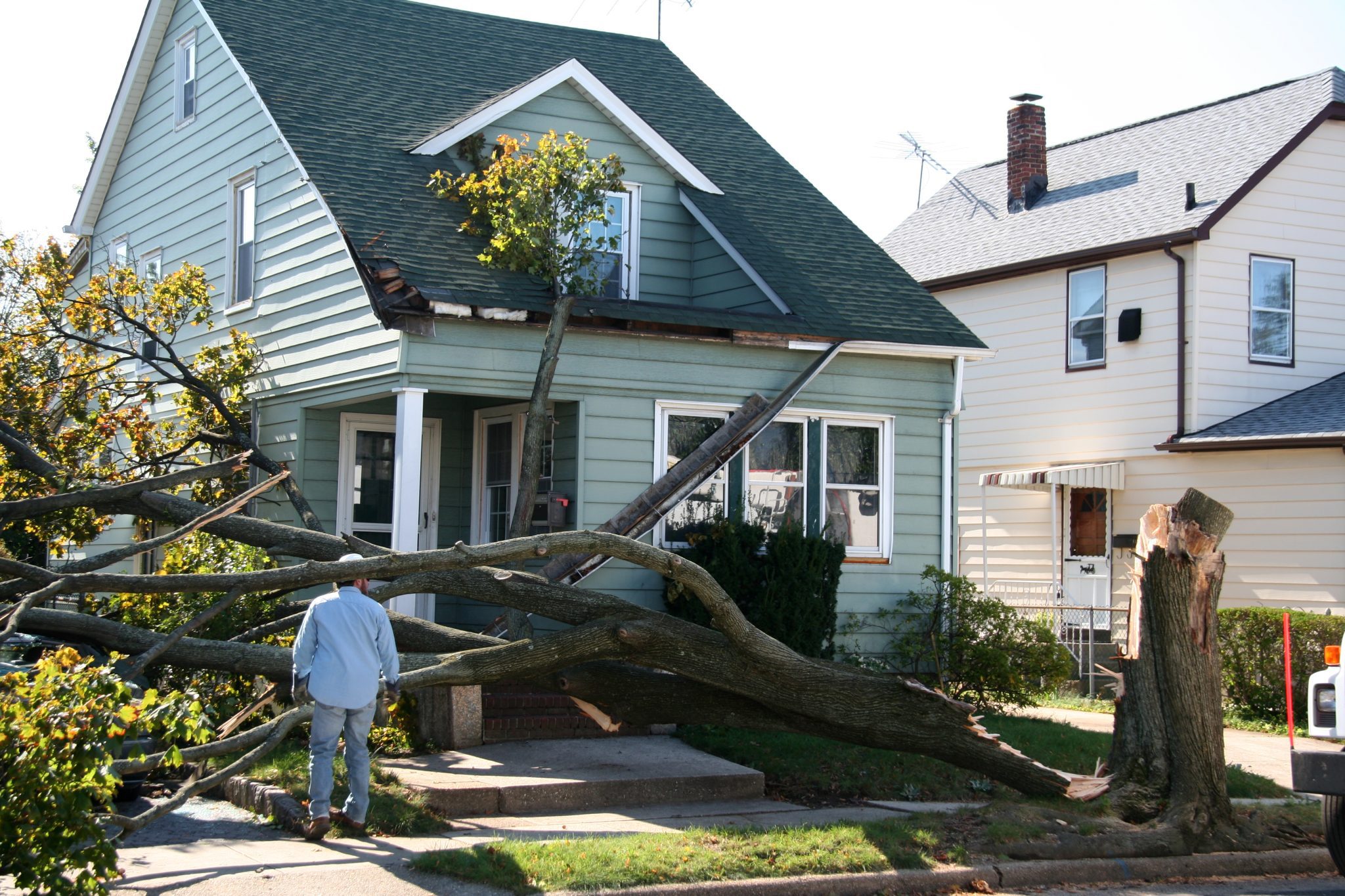 Secure the Property Damage
Do not mistake securing the damage with repairing the damage. If there is a hole in your roof, cover it up. If some of your windows break, board them up. It might take some time for the insurance adjuster to inspect the damage. It also helps to dry up any water as the damage will leave its mark. Remember that any damage that is incurred after you report the claim is on you. However, you do not need to clean up the damage because you want the insurance company to get a clear view of it.
Document the Damage
Go through and document every shred of damage and be sure to leave nothing out. List every item that was damaged, how old it was, its current cash value, and any other information that comes to mind. The more detailed your list, the better it will be. You can even list what it would cost to replace each item. Taking photos and videos are also highly recommended. And if an item has been lost in the disaster, still make a record of it.
Find a Temporary Residence
In instances where storms and natural disasters severely damage your home, it's important to find another place to stay. Most insurance policies cover living expenses in a place that is comparable to your residence. That means if you live in a three-bedroom house, you can rent another three-bedroom house and even rent furnishings while you are there.
When disaster strikes and leaves its mark on your home or business, contact AmeriClaims, Inc right away and let one of our public adjusters start working for you. Our team of adjusters will level the playing field when dealing with insurance companies who are looking to pay you less than you deserve.